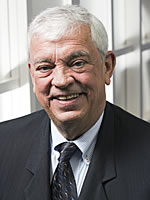 Hyatt P. DeGreen II, MD (Peter)
Emeritus
Lancaster Cancer Center was founded 40 years ago by Hyatt P. DeGreen II, MD (Peter). His vision was to offer uncompromising, compassionate care and treatment to those affected with cancer in a calming and friendly environment … caring for them like family. Today, the history of care continues with the practice led by second generation, Hyatt P. DeGreen III, DO (Tracy).
At Lancaster Cancer Center, we understand that cancer does not just affect one part of your body. It affects all of you and everything in your life. We are with you every step of the way and help you embrace the challenges ahead of you. From your initial consultation, we provide we develop an individualized treatment plan, which includes a powerful combination of advanced conventional treatments combined with supportive complementary medicine therapies. Our 'Care Beyond Treatment' provides our warriors to be better prepared to fight and improve their quality of life.
"Great staff and doctors where they treat you like family and not a number."

–An appreciated patient